PSH-Series Hydrophobic Polysulfone
PSH-Series high purity hydrophobic polysulfone membrane filter cartridges provide a cost-effective alternative to PTFE or PVDF membrane cartridges for air, bulk gas, and tank vent applications requiring high moisture resistance.
PSH-Series Ordering Specifications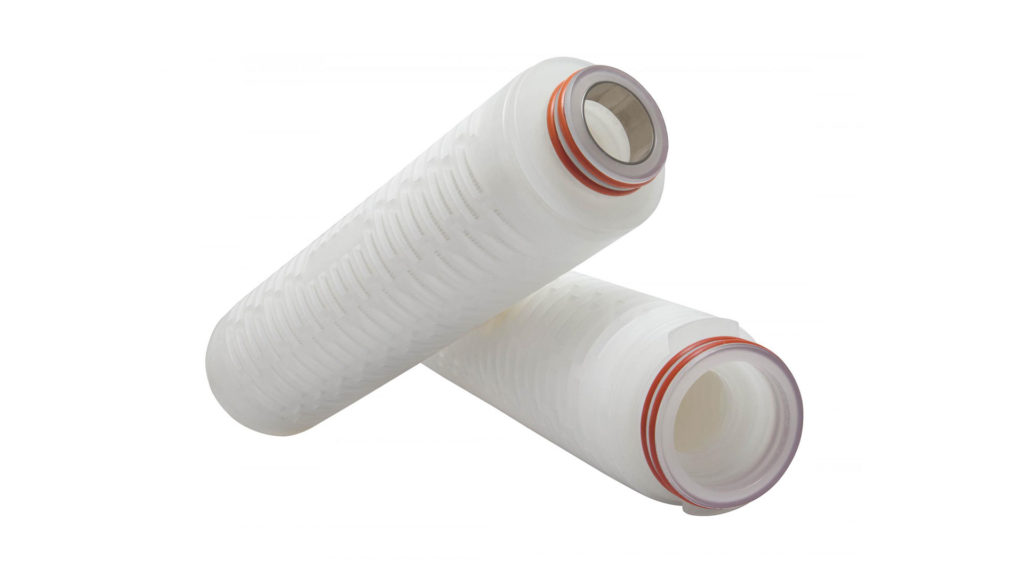 Micron Ratings
0.02 or 0.03
Lengths
10″, 20″, 30″, 40″
End Cap Styles
2 = DOE Flat Gasket
3 = 222 w/ Fin
4 = 222 w/ Flat Cap
6 = 226 w/ Flat Cap
7 = 226 w/ FIN
16 = 213 Internal O-Ring
28 = 222 3-Tabs w/ Fin
O-Rings/Gaskets
B = Buna
E = EPDM
S = Silicone
T = Teflon® Encapsulated Viton®
V = Viton®
Z = Teflon® Encapsulated Silicone
Adders
CS = 316SS Compression Spring
I = Stainless Steel Insert
Construction Materials
Membrane: Hydrophobic Polysulfone
Support Media: Polypropylene
End Caps: Polypropylene
Center Core: Polypropylene
Outer Support Cage: Polypropylene
O-Rings/Gaskets: Buna, EPDM, Silicone, Teflon® Encapsulated Viton®, Viton®, Teflon® Encapsulated Silicone
Typical Applications
Tank Vent
Fermentation
Air, Nitrogen, and Other Inert Gases
Operating Conditions
Change Out Δ (recommended): 35 PSID
Temperature (max): 176˚F (80˚C)
Differential Pressure (max): 50 PSID (3.4 bar) at 68˚F (20˚C)
Sanitization/Sterilization
Filter Hot Water: 80˚C for 30 min
Steam Sterilization: 121˚C for 30 min., multiple cycles
Chemicals: Cartridges are compatible with most chemical sanitizing agents.
Note: Stainless steel insert option required for all cartridges being hot water sanitized or steam sterilized
Toxicity
All polypropylene components meet the specifications for biological safety per USP Class VI – 121˚C for plastics.
Flow Rate vs Pressure Drop
Dimensions
Length: 10 to 40 inches (25.4 to 101.6 cm) nominal
Outside Diameter: 2.70 inches (7.0 cm) nominal
Food Safety Compliance
Materials of construction comply with FDA regulations for food and beverage contact use as detailed in the US Code of Federal Regulations, 21 CFR. Materials used to produce filter media and hardware are deemed safe for use in contact with foodstuffs in accordance with EU Directives 2002/72/EC, 1935/2004, and/or 10/2011.
PSH-Series Overview
The highly asymmetric membrane pore structure provides a high flow rate at a low-pressure drop. Constructed using high-purity polypropylene hardware and support layers. PSH-Series cartridges offer outstanding performance value. Manufactured in a clean-room environment to maintain high standards of purity and cleanliness
Related Products
FG Zoom Backgrounds_5
Pleated Membrane Cartridges