Parts Cleaning
Global Filter can help put together a filtration system to optimize your cleaning fluid performance and extending your part's product life.
Filtration Technologies in Parts Cleaning
In order to improve the cleanliness of the parts and the cost-effectiveness of the process, most parts washers include filtration technologies. The selection of the correct filtration technology is critical to reduce rejected parts, re-work, nozzle-plugging, and scrap. In addition, filtration will extend the overall life of the wash and rinse fluids, reduce labor hours, and minimize disposal costs.
Literature
Download the Parts Cleaning literature below for more details on our filtration solutions.
Parts Cleaning Application Brochure
Learn more about the role of filtration in the parts cleaning process and the products for each stage.
Our Products Used in the Part Cleaning Process
Our bag vessels are adaptable and suited for contaminant removal in a wide variety of high-flow industrial and commercial applications.
Our cartridge vessels are adaptable and suited for contaminant removal in a wide variety of industrial and commercial applications.
Adaptable to a very wide range of applications, liquid bag filters are available in both nominal and absolute efficiencies in micron ratings from 1 to 1500. Ideal in high flow applications, generally for coarse particulate retention.
With its gradient density depth construction, our depth cartridge products are an economical option for the removal of both fine and coarse deformable and non-deformable contaminants. Ideal for use as a prefilter, protecting costly downstream pleated cartridges/equipment, or as a final filter in a wide variety of industries and applications.
Multi-layer, fiber-based media provide true depth-loading for high efficiency removal at low micron ratings. The larger diameter pleated design offers extremely high surface area, allowing for outstanding loading at high flow rates per single cartridge. This reduces the number of required cartridges, thus reducing the total associated costs.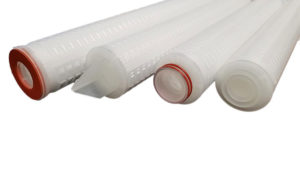 High purity pleated polypropylene filter media provides a high area, 100% polypropylene element for removal of fine or coarse particulate from fluid streams. The pleated depth media is encapsulated in an integral, continuous length, thermally-bonded structure for cleanliness, pressure tolerance, and chemical inertness. Offered in both absolute-rated (up to 99.98% retention) and nominally-rated (90% retention) grades in all end configurations.